Honeymoon gift certificate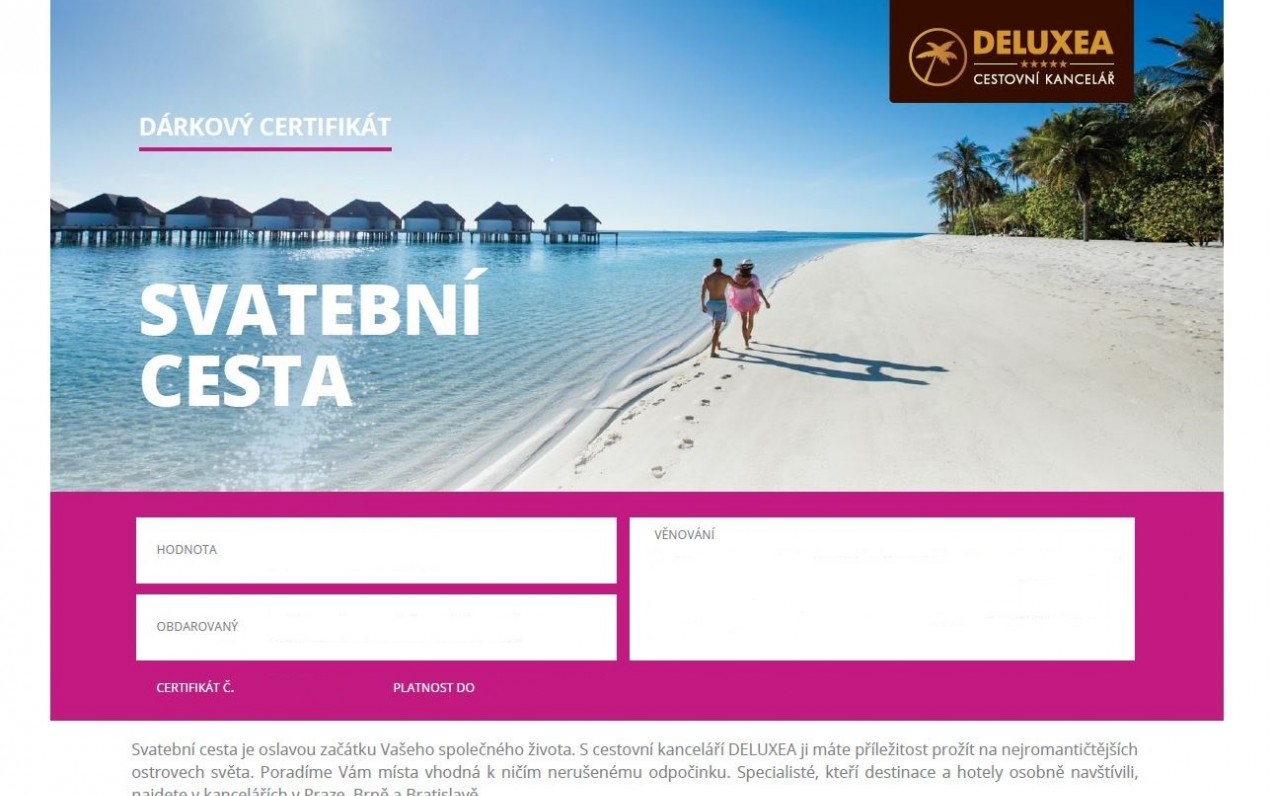 Naše ceny hotelů v Emirátech již zahrnují DPH ve výši 5%, poplatek obci ve výši 10% i poplatek za služby v ubytování ve výši 10%.
Best Price Guarantee
The price is valid for free seats in the most advantageous booking class

We calculate
the cost of your trip.
Please wait.
Přibližte svým blízkým svět cestování díky dárkovému certifikátu
Svatební cesta je oslavou začátku Vašeho společného života. S cestovní kanceláří DELUXEA ji máte příležitost prožít na nejromantičtějších ostrovech světa. Poradíme Vám místa vhodná k ničím nerušenému odpočinku. Destinace i hotely jsme osobně navštívili a rádi Vám poradíme z osobních zkušeností. 
Na svatební cestu můžete odletět již druhý den po svatbě konané v Česku či Slovensku, anebo si ji naplánovat na pozdější termín. Cestujete-li nejpozději do 6 měsíců (ve vybraných hotelech do 9 měsíců) od svatebního obřadu, máte nárok na velmi zajímavé slevy a výhody.
Proč zakoupit Dárkový certifikát Cestovní kanceláře DELUXEA
1.   Certifikát lze použít k úhradě libovolného zájezdu nebo letenky
2.   Obdarovaný může vybírat z nabídky 747 hotelů v 38 destinacích celého světa
3.   Všechny zájezdy jsou pojištěny proti úpadku cestovní kanceláře
4.   Obdarovaný může vybírat z letenek z Prahy nebo Vídně kamkoli do světa
5.   Cena zájezdů do exotiky začíná již na 49 000 CZK/osobu
6.   Certifikát poskytuje garanci nejnižší ceny na trhu (více zde)