Naše ceny hotelů v Emirátech již zahrnují DPH ve výši 5%, poplatek obci ve výši 10% i poplatek za služby v ubytování ve výši 10%.
Best Price Guarantee
The price is valid for free seats in the most advantageous booking class

We calculate
the cost of your trip.
Please wait.
Svatba v zahraničí na Maledivách
Hledáte pro svoji svatbu fotogenické bílé pláže s jemným pískem? Poleťte si s námi užít all inclusive romantiku na Maledivy. Svatby na Maledivách jsou možné symbolické a mohou probíhat zcela dle Vašich představ. Na úřad v Česku si jednoduše zajdete jen se dvěma svědky dopoledne. Každý den kolem 16 hodiny odlétá z Prahy letadlo Emirates. Další den už budete na malém rajském ostrůvku uprostřed oceánu. Obklopeni fantastickou přírodou si vychutnáte svůj romantický obřad s plným servisem.
Budete mít pocit, že nic, opravdu NIC, nemusíte. Můžete tedy vydechnout, mlčky poslouchat šumění vln a nevěnovat se už nikomu a ničemu jinému, než své milované nebo svému milovanému. Svatba na Maledivách je dokonalá právě pro ty, kdo chtějí mít nejvíce klidu a romantiky a řešit přitom minimum formalit. 
Váš svatební den - řekněte si své "Ano" na břehu Indického oceánu
Přejete si svatební obřad, kde jediné, na čem záleží, jste VY DVA? Dopřejte si svatbu bez všech organizačních otázek, jako koho pozvat, kde svatbu uspořádat, jaké jídlo podávat a kde hosty ubytovat. Řekněte si své symbolické "Ano" v místě, kde Vy, láska a romantika hrají prim - na Maledivách.
V tomto krásném prostředí se můžete soustředit jen a jen na sebe. Jediné, co zařizujete, jsou krásné svatební šaty nebo prostě cokoli, v čem se budete cítit pohodlně. Můžete se vzít bosky na pláži bosky, ve stínu palem či u květinové slavobrány, či v altánku nad vodní hladinou – fantasii se meze nekladou. Po obřadu a přípitku se vydáte se svou láskou na projížďku lodí při západu slunce, zatímco Vám personál připravuje květinovou koupel u vás ve vilce, a ráno si nechte naservírovat snídani se šampaňským přímo do postele.
Služby, které mohou ženich a nevěsta při svatebním obřadu využít, se liší resort od resortu. Obvykle vedle obřadu, přípitku, hudebního doprovodu, květiny a účesu pro nevěstu mohou zahrnovat také svatební dort, projížďku lodí při západu slunce, služby fotografa, večeři při svíčkách, výzdobu pokoje, lázeňské procedury pro páry nebo květinovou koupel ve vile a mnoho dalšího. Fantazii se meze nekladou. 
Jednoduchá příprava na svatbu na Maledivách
Pro uzavření manželství je z právního hlediska nezbytné vyřčení srozumitelného "Ano" a podepsání dokumentu na matrice v České republice, které můžete vyřídit v řádu minut zcela neformálně. Odletět na Maledivy můžete klidně tentýž den. Obřad na Maledivách je symbolický. Půjdeme-li do detailu, výměnu prstenů a dokonce i první novomanželské políbení si můžete nechat až na Maledivy.
Pro srovnání: právně platné svatby na Mauríciu a Seychelách musí být oznámeny minimálně 31 dní předem a musíte k nim doložit několik dokumentů přeložených do angličtiny a den před svatbou musíte objet 3 úřady (s řidičem a delegátem). Obřad je oficiální, oddávající je z místně příslušné obce a pokud nemluvíte plynně anglicky, potřebujete tlumočníka. Po svatbě dostanete oddací list v angličtině, který si musíte nechat přeložit a dodat na matriku. Na Maledivách nemusíte nic vyřizovat předem ani na místě. Právně platný bude Váš akt na radnici či matrice před cestou.
Svatební cesta
Pokud jste se rozhodli říct si své "Ano" jinde než na Maledivách, stále můžete v této destinaci snů pro zamilované trávit první dny nebo týdny po svatbě. Budete si přát, aby vaše svatební cesta nikdy neskončila. Ocitnete se v jedinečném prostředí, kde zapomenete na všechen předsvatební shon, na práci, na starosti, na chvíli snad i na své kamarády – nic nebude odvádět vaše myšlenky od vašeho partnera. Oslavte událost, která je jen jednou za život, jak se patří! Z nadvodních vilek si můžete dopřát ničím nerušený výhled na širé moře, ze své terasy v naprostém soukromí sledovat západy slunce, ale hlavně si užít ničím nerušený klid uprostřed dech beroucí přírody.
Výhody pro novomanžele a páry slavící kulaté výročí
Protože Maledivy jsou oblíbenou destinací pro romantické příležitosti, nabízejí některé hotely novomanželům malé dárky či pozornost na uvítanou, nebo dokonce slevy na ubytování. Stačí, když tuto významnou událost slavíte do 24 měsíců po Vaší svatbě, což doložíte kopií oddacího listu.
Bezstarostná dovolená s neomezenými možnostmi
9.6

reviewed by

152

customers DELUXEA (

more

)
Jedna z nejkrásnějších a nejdelších pláží na Maledivách
Zcela nové luxusní a prostorné vily
Profesionální péče a špičkové all inclusive
Počítáme cenu Vašeho zájezdu. Vyčkejte prosím.
Dokonalá kombinace luxusu a sofistikovanosti na privátním ostrůvku

Hotel chain: Constance Hotels & Resorts

Location: Maldives, Ari atoll | Map

Meal:All Inclusive
9.7

reviewed by

60

customers DELUXEA (

more

)
Potápění a pláže
Robinson Crusoe Styl
Perfektní služby
Počítáme cenu Vašeho zájezdu. Vyčkejte prosím.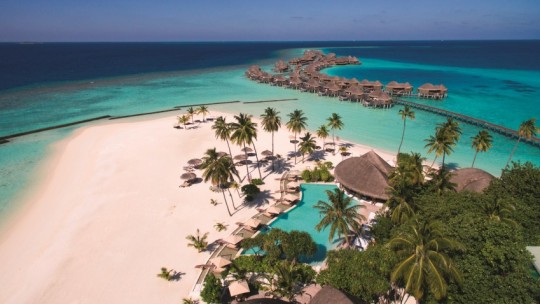 Dovolená v opravdovém klidu s notnou dávkou soukromí a luxusu

Hotel chain: Constance Hotels & Resorts

Location: Maldives, Ari atoll | Map

Meal:Breakfast, Half board, All Inclusive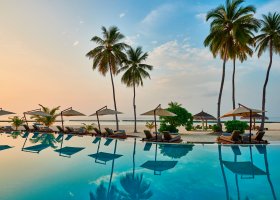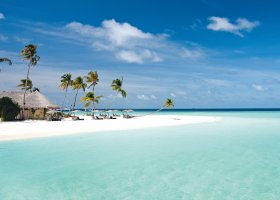 9.6

reviewed by

27

customers DELUXEA (

more

)
Luxusní vily
Křišťálová laguna
Božský klid


Počítáme cenu Vašeho zájezdu. Vyčkejte prosím.
Vyberte si ubytování na Maledivách podle svého přání
Vyberte si hotel na Maledivách podle svého přání v našem přehledném formuláři zde. Pokud si nejste jistí, rádi vám poradíme. Každý z ostrovů má svou jedinečnou atmosféru, přičemž si tu každý návštěvník přijde na své. Svůj pobyt tu můžete strávit lenošením na nádherných plážích a užíváním si luxusu, který zdejší resorty nabízejí vrchovatou měrou. Maledivy si oblíbí i vyznavači aktivně strávené dovolené, ať už dáváte přednost objevování světa pod mořskou hladinou, nebo se bavíte při vodních sportech. 
Informujte se u našich Deluxea Travel Specialistů.
Zájezd se svatbou na Maledivách vám připravíme na klíč a postaráme se o vás
Garantujeme vám jedinou svatbu denně ve vámi vybraném hotelu
Možnost výhod svatebního balíčku (záleží na nabídce konkrétního hotelu)
Váš pobyt může být libovolně dlouhý (5,6,7,8,9,10,11,12,13,14… nocí)
Odletět můžete každý den z Prahy nebo Vídně
Poletíte pravidelnou linkou EMIRATES
Můžete si vybrat hotel z velmi široké nabídky od 2* do 6*
Z letiště do hotelu vás dopraví limuzína, terénní vůz, osobní auto nebo mikrobus
Stravování vám zajistíme formou all inclusive, plné penze nebo polopenze
Máte-li děti, jejich pobyt bude zdarma nebo se slevou
S EMIRATES můžete mít stop-over v Dubaji
Naše ceny jsou konečné a zahrnují povinné pojištění cestovní kanceláře
Součástí svatby v ráji mohou být některé výhody svatebního balíčku*, který zahrnuje:
svatební obřad
kytici pro nevěstu
hudbu po dobu obřadu
svatební dort
sázení palmy
plavbu loďkou při západu slunce
večeři při svíčkách
masáž
zarámovaný svatební certifikát
snídani do postele ráno po obřadu
*Nabídka svatebního balíčku se liší podle konkrétních hotelů
V cestovní kanceláři DELUXEA stojíte na prvním místě vy, naši klienti. Od založení naší společnosti v roce 1995 jsme již uspořádali více než 1000 svateb v zahraničí. První právně platnou Svatbu v ráji českých občanů jsme úspěšně zorganizovali na Seychelách již v roce 1998 a na ostrově Maurícius v roce 2000. V únoru 2011 pořádala naše cestovní kancelář svatbu modelky Barbory Kolářové, české vicemiss na ostrově Maurícius. - více zde.
Naši zaměstnanci výše uvedená místa opakovaně navštívili a detailně poznali místní prostředí, nabídku služeb a ubytování. Díky tomu vám mohou velmi odborně na základě osobních zkušeností poradit a sestavit zájezd se svatbou v zahraničí přesně podle vašich přání. Svatbu v ráji si můžete nechat připravit pouze v našich kancelářích v Praze, na Příkopě 392/9, v Brně, Vídeňská 55 a v Bratislavě, Miletičova 5. Nekoupíte ji u žádných svatebních agentur ani u internetových prodejců.